Posted on March 14, 2005 | 3 comments
Last friday morning 11/3, I went to Bogor with some of my Milist friends for Bogor Food Tasting Journey. The journey to Bogor took about 1 hour, we arrived at 8:00 AM and headed to "Taman Kencana" for breakfast. We had Nasi Pecel and rawon there, there is a popular "Macaroni panggang" cafe nearby. After that we headed to "Rangga Gading" traditional market to tried "Pangsit Penganten", Soto Mie, Combro etc. After that we tried "Toge Goreng" sold by "Ibu Amah". Since I'm not a big fan of toge (beansprout) I only tried a litle.
At lunch time we had "soto mie ciseeng", "ngo hiang", "Bakut Goreng", "Bakut Kuah"… well theres alot more 🙂 such as "Es Mangga", "Asinan Gg Aut", etc.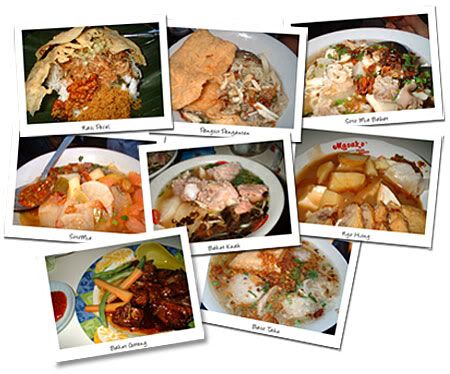 After Lunch we headed to Warso's Farm to tried out Durian :)we also walk around the farm and watch how the "Duren" fruit grow .. From Warso's Farm, we went to Bukit sentul where we tried es cendol & "Tahu Pong" mmm…..what a yummy yummy day, and my diet was officialy ruined but I didn't regret it hehehe 🙂
3 Comments
Never miss a post
Newsletter
Find Us on Facebook